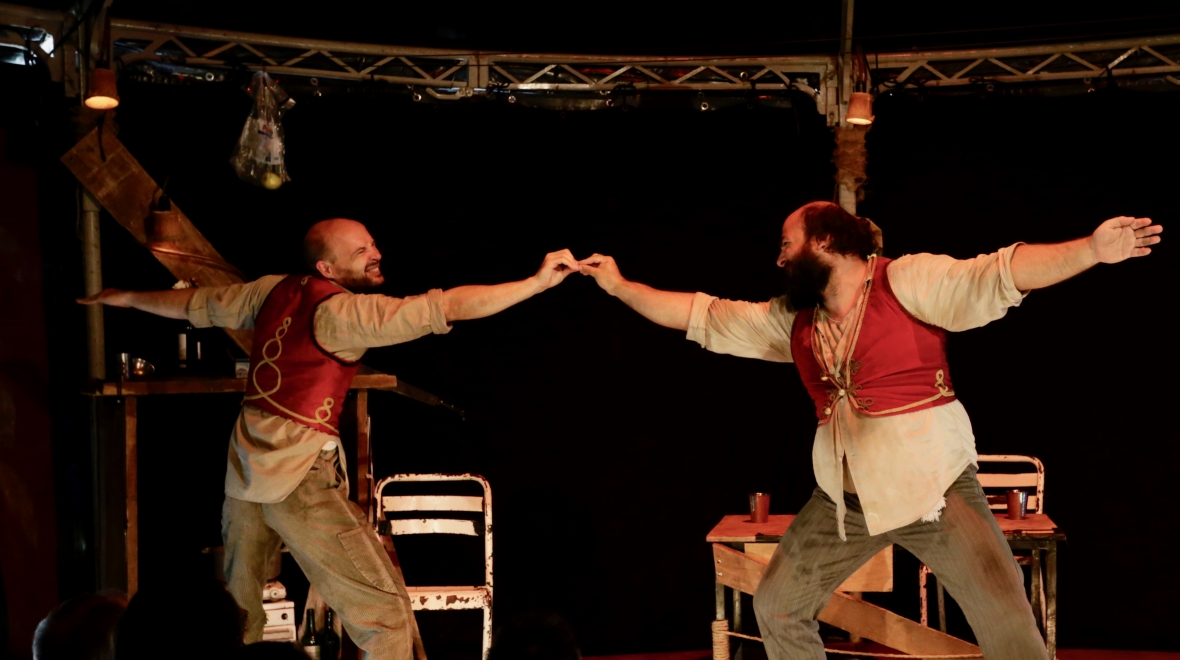 Duration: 1 H
France
For all
810 vues
A duo of juggling clowns in a curious little circus… inside a yurt!
Against a junk-strewn backdrop, two former clown-acrobats, filthy and drink-sodden, are reunited for one last turn in the ring. Together, they set about ingeniously manipulating the objects around them… These aren't the sort of clowns likely to sport a red nose. In their bizarre, bespoke big top, these two comrades share the same sullen air and fearful look. No strangers to a few red wine stains or even the odd knife-throwing incident, they display an astonishing perseverance in their search for the most absurd and improbable situations. With a combination of skill, ingeniousness, and naivety (genuine or feigned?) they play with danger to convince themselves that they're still alive. Ridiculous and tenacious, with their feet bogged down in the present, but their heads firmly stuck in the stars of former glories, they expect nothing but are capable of anything…
This ingeniously comical performance invites the audience to pay close attention to every last detail of the stage, riddled with little hiding places, and share in the joyful discoveries of these slipshod MacGyvers. Benjamin De Matteïs and Mickael le Guen are the operators of this outlandish theatrical machine, which runs like clockwork. And behind the masks are two extraordinary jugglers.
Distribution and legal informations
Stage design and performance: Benjamin De Matteïs and Mickael le Guen
With expert input from: Stéphane Filloque
Produced by: Cie Sacékripa
Co-produced by: Theater op de Markt; Dommelhof, Neerpelt; CIRCA, pôle national des arts du cirque, Auch; Office municipal de la culture de Puget Thenier
Made possible by: Conseil départemental de Haute-Garonne; Région Languedoc-Roussillon-Midi-Pyrénées; Ministère de la Culture et de la Communication; DGCA; Mairie de Toulouse
With the support of: Le Lido, Centre des arts du cirque de Toulouse; Mairie de Montberon; La Grainerie
More informations
Place of capture : Square Jean Jaurès